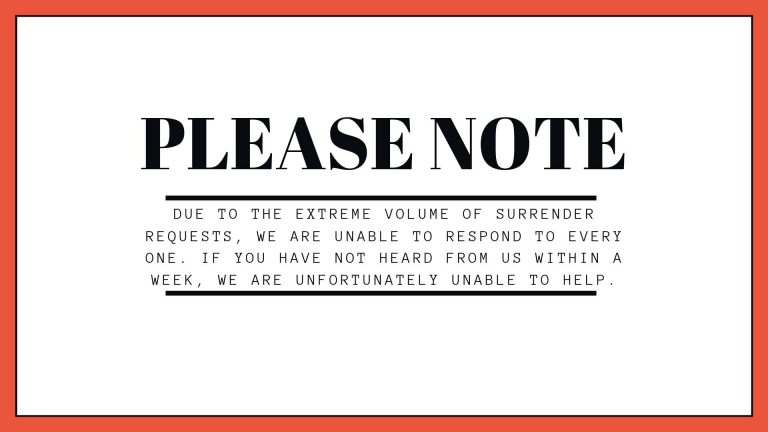 Thinking about surrendering your family pet is a tough choice. The decision is not made easily, and it is very difficult to lose a loving pet. Sometimes families have no other choice but to surrender (whether due to allergies, finances, or hitting a dead end with resources such as training), and it is a decision made with love and with the best interest of their pet in mind. However, there are situations where there may be other resources for you to consider before deciding to surrender.
It takes courage and humility to ask for help. Surrendering your pet to a shelter, when you have no other options, is not a sign of giving up or not caring; in a way, it's a sign of love and caring. These people could very easily just open the door and let the inside-only cat out to fend for itself or tie a dog to a tree and assume someone else will find them and take care of them (these things happen all the time), or drop them off in the woods somewhere, but they don't. They pack up their things and take them to a place where they will be fed and at least have a chance of being adopted and finding a new, loving home.

~ from "An Open Letter to People Who Surrender Their Pets to the Shelter" on Catster [Although the article talks about cats, we feel that the same principles apply for dogs.]
Are you thinking of surrendering? Do not feel guilty or ashamed, as sometimes circumstances change that you cannot predict. We want to be sure we give you some options before you lose your beloved furry family member.
The following items/resources are important to consider
:
Behavioural issues: We have many resources for amazing trainers to consider in the Ottawa area (with high success rates). What is your dog telling you? How can you help them learn what they need to, so that they can remain in your home? Remember that all trainers and classes are different; if one isn't working for your family then try another facility or program — find the right fit for you and your dog! Don't give up!
Moving: Moving to a new place? Try finding a location that is pet-friendly if this is an option.

Do your research through CBSA and CFIA if you're planning on moving out of province or to a new country.

A new pet: Thinking about, or have you already brought home a new furry family member and are now having/worried about issues integrating the pets in the home? Our Resources page has links about introducing new dogs and cats to help you with a smooth transition, as well as to help you understand what is happening in the mind of your pets.
A new human: Maybe you have started a new relationship with someone allergic or someone that's new to living with an animal. Or, maybe you're welcoming a tiny human — check out our Resources page for some great tips, and meet with a trainer prior to the arrival if possible to help with preparation training if necessary.
Allergies: Sadly if someone in your home is allergic to a pet, you may need to consider surrendering for the health of your family member. If you want to adopt, but have a family member with allergies, think about the breed before you bring it home, and meet many different breeds to find the right breed for the allergies, since all breeds affect allergies differently. Maybe all you need is hypoallergenic shampoo or regular grooming appointments? Or a diet change (oils or additional fluids to help reduce dander or shedding), or grooming maintenance (such as wiping down your dog after a walk through the allergens outside). Start your research and talk to your doctor and a veterinarian to get you started.
Finances:

Before bringing home your new furry friend, consider pet insurance or financing plans. Consider whether you have savings or other financial support in case of an emergency.

If you're unable to afford

the ongoing costs associated with

your beloved pet, please consider surrendering. Losing a furry loved one is a difficult decision, and in the case of finances for food or vet care there may also be local financial assistance to help you keep your pet. Consider contacting your local shelter or township/city for assistance programs.
Life change: Divorce? Family death? Busier routine, new job or schedule? Ask friends and family for assistance where possible, but also consider looking into Doggy Day Care centres or a dog walker.
If you've tried all the above without success, please complete the form at the bottom of the page so that we can assist you in anyway we can. The following form asks for some basic information. The more detail you provide, the better we
can determine if we are able to help you. Please note – we receive a high volume of surrender requests. Unfortunately, we are unable to help every dog we come across. We will only contact you if we are able to help
.
Note:
Rocky Road Rescue operates in the Ottawa region, but we do have partner organizations in other areas of Ontario. We do not transfer dogs outside of the province.
We understand that surrendering your dog is a difficult decision. You know your dog best, and so we ask for as much detail as possible in the following form so that we can

determine if we're able to help, and if so,

find the right foster home. Thank you for being as detailed as you can!