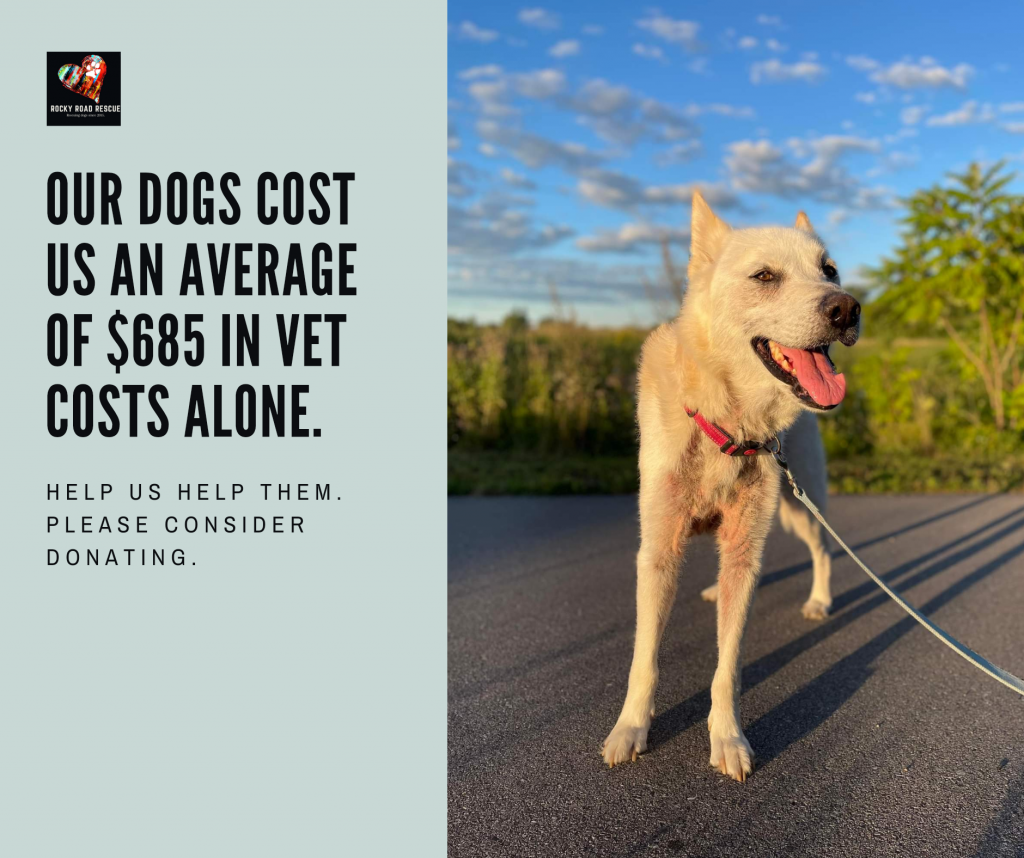 We save around 70-180 dogs every year, depending on the need. 70-180 dogs rescued! Every year.
Rocky Road Rescue relies on the generosity of our entire community. Our dogs are fully vetted – up to date on shots, neutered/spayed, microchipped, underlying conditions addressed, and assessed/trained within their foster homes.
The costs to bring a dog into care usually look something like this:
Initial exam ($75 – $250. Depends on vet clinics & if the exam is an emergency one)


Core vaccines (rabies & DAPP) (approx, $150)


If applicable, neuter or spay. ($400 – $1,200. Depends on the size of dog & clinic)


Deworming & 4DX testing (if the dog was previously an outdoor dog)(approx, $250)


If applicable, dental work. We pull teeth that are causing the dog pain (well, our vet does) ($1,000+)


& much more! If the dog tests positive for Lyme disease, we treat it ($150 – $400). If the dog has cancerous lumps, we remove them ($1,000+).

The adoption fee, at its highest, is around $750-$950. And for seniors, with sometimes the most medical issues, the adoption fee is lowered to $100-$750 or sometimes waived altogether if it is palliative case or the dog will have ongoing medical issues.
As you can see, the adoption fee frequently does not cover the actual costs of caring for the dog.
For that reason, we are always happy (and extremely grateful) to receive a cash donation. You can send an e-transfer to events@rockyroadrescue.com or use PayPal.