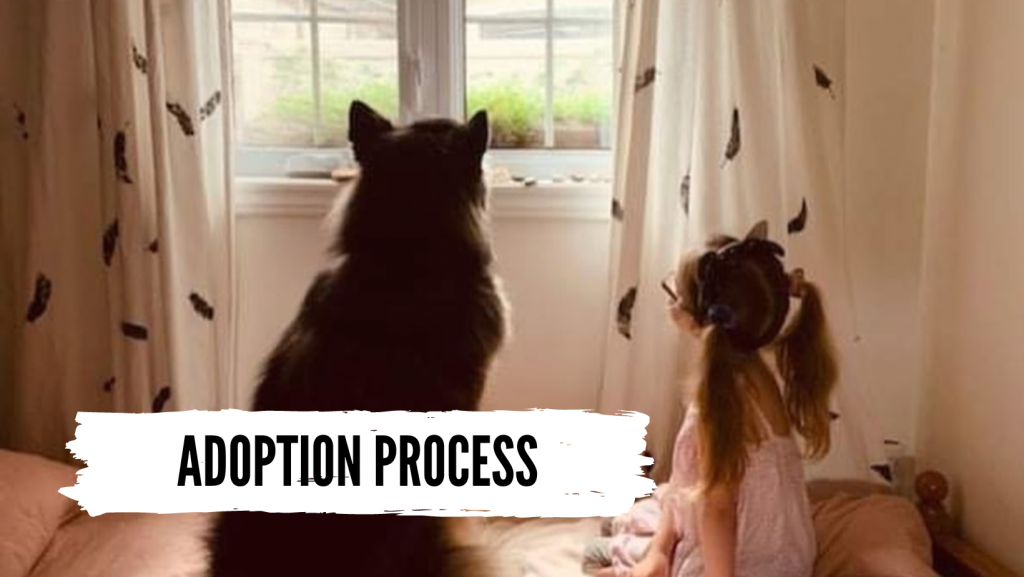 Get Ready!
While you are contemplating adopting a rescue dog, or while you wait for us to process your application, take some time to learn about dogs, especially how to welcome a new dog into your home, by visiting our "Learn" page. We've gathered some great resources to help you choose a pet that suits your lifestyle, prepare for the grand homecoming, and find services to help you and your pet.
Fees
Rocky Road Rescue has an adoption donation fee of $750 for adult dogs, $950 for puppies 12 months or younger, and $100-$750 for a dog who is over 8 years and considered a senior (this fee is decided on a case-by-case basis). Our dogs are fully vetted – up to date on shots, neutered/spayed, microchipped, and assessed/trained within their foster homes. In exceptional cases, e.g., if the dog is very old or has ongoing health concerns, the adoption fee may be reduced or even waived. In those cases, the dog's biography will indicate the adoption fee.
What's included in the fee you pay:
– Initial exam ($75 – $250. Depends on vet clinics & if the exam is an emergency one)
– Core vaccines (rabies & DAPP) (approx $150)
– If applicable, neuter or spay. ($400 – $1,200. Depends on the size of dog & clinic)
– Deworming & 4DX testing (if the dog was previously an outdoor dog)(approx $250)
– If applicable, dental work. We pull teeth that are causing the dog pain (well, our vet does) ($1,000+)
& much more! If the dog tests positive for Lyme disease, we treat it ($150 – $400). If the dog has cancerous lumps, we remove them ($1,000+).
This is why we have to charge what we do for our dogs. Otherwise, we could help a few dogs and then have to shut our doors permanently.
Adoption Process
The first step in the adoption process is a completed Adoption Application. Once we receive the application, our adoption coordinator will contact you to discuss the application further, and to talk about next steps. Our bios on our website and Adopt-a-Pet are quick previews of our dogs in care, and once it is determined that you are a potential forever match, we will discuss and disclose all details about the dog's temperament, personality, needs, and favourite activities!
Second step is to arrange a "meet & greet." This is where the potential adopters are able to meet the dog one-on-one with its foster and ask all the questions that come to mind! This step is about the dog's reaction to you, of course, but most importantly is the perfect time for you to see the dog in its comfortable environment (its foster home) and the relationship the foster has been able to build with the dog. We do have a protocol for this step, and will explain this to you before the meet & greet is arranged. Every dog – and every adopter – is different; so we can arrange as many visits as necessary to ensure it is the perfect forever match!
Last and final step – We will complete reference checks, and go over any last details regarding the adoption contract. If everyone (including you!) is happy with this final step … WE HAVE ANOTHER HAPPY TAIL !
How Long Does The Process Take?
As mentioned in step two, this all depends on the dog and the adopter, since every case is unique! The process ranges from one week to one month depending on the pace of the adoption, and the shyness of the dog. We LOVE to see commitment and patience during the process, and we look for those who understand the needs of the rescue dog.
What Support Does Rocky Road Rescue Offer?
For adopters, we are always there – every step of the adoption journey, and for years afterwards! Our volunteers are here to answer and disclose all information we are aware of in regards to temperament and medical needs. Not only this, but we are also here to help you do proper introductions with your other family members – furry or human! Additionally, we provide information on the adjustment period and tips to help your new furry family member adapt to your home and schedule. We can also recommend amazing trainers and veterinarians, if your rescue pooch requires any help later in life.
Ready to Adopt?
Check out our available dogs looking for their forever homes!
Don't see your match? We bring new dogs into rescue everyday, but we have a sneak-peak of a few photos of our "Coming Soon" dogs.
Thank you for considering adoption, and opening your heart and home to give a second chance to a dog who deserves a forever, loving home!

Save
Save
Save
Save
Save
Save