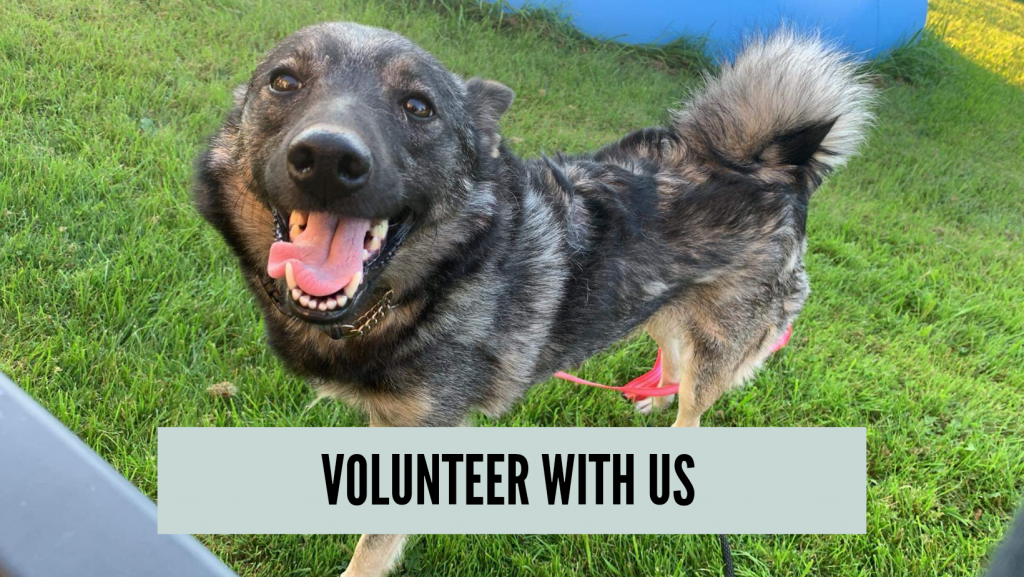 Interested in volunteering with Rocky Road Rescue?
You'll find descriptions of all the possible volunteer options below.
If you have any questions about volunteering, you can email us at events@rockyroadrescue.com
---
There are no paid positions at Rocky Road Rescue: we are non-profit, and every lick of work is provided by volunteers in their free time. That includes our president, treasurer, adoption coordinators, foster coordinators, administrative coordinators, event coordinators, and our webmasters. We couldn't save dogs without people like you!
We are always looking to meet new people, expand our teams, and hear new & innovative ideas! WE WANT YOU!
---
Volunteering Positions
Here are some of the volunteer opportunities within our organization:
Event Volunteers
Event Coordinators
Fostering: Long-term & Short-term
Dog "Teachers"
Social Media Team
Transport Drivers
Read below for details about each opportunity mentioned above & how to get started!
---
Event Volunteers
Would you love to come out & show your support? Visit us at one of our local event locations! Visit our Events page and find a location near you — We would love to see you there!
We also have specific positions available depending on the event — whether you're interested in:
Baking for bake sales (human & dog treats),
Creating gift baskets or rescue swag,
Taking photos,
Dog washing,
Trimming nails; or,
Educating the public & talking about who we are and our pups.
For all of these events we need volunteers, so if you are able to spare an hour or two, we could sure use your help either with the dogs or other positions mentioned above.
You are the minions that make an event successful!
---
Fundraising Team
We are always looking for new & creative event or fundraising ideas!
— Do you know a local business that would love to host us or support us?
— Don't mind calling business owners and building relationships?
— Full of creative ideas on how to raise funds?
This is a team setting, where volunteers work together in their neighbourhoods to build rescue awareness. The goal is to arrange outreach and fundraising opportunities for the rescue in various areas around the city of Ottawa and surrounding areas.
Assets: Transportation and a telephone, along with a people-friendly, professional, go-getter personality!
---
Fostering
Fosters are the foundation of how we help these dogs. They are the reason we can do what we do!
By nurturing rescue dogs in a home setting, they learn manners & social skills that prepare them for their second chance at a forever home. Our fosters gain dog experience and receive further support from our entire team. Think this might be right for you? We need your help!
Looking for further details? Check out our Foster page for information.
We have long-term and short-term positions available:
Being a long-term foster means that you take the dog in from day one to nurture, train and assess, in order to provide details about the dog to our Adoption Team. The work you do helps get the dog adopted! Your job is to take cute photos and make sure the dog is healthy & vetted, as well as well-mannered & happy! We will give you all the tools and support to help both you & your foster dog all along the way! Our full foster period is normally around 2-3 weeks, but there are some dogs that may be in care for longer or shorter – it all depends on the dog.
Not able to fully commit to a foster period but would still like to help? We love foster babysitters! These are folks that may not be able to watch a dog for longer than a day or two, to a week maximum. Any amount of time helps! These babysitters also help socialize the dog & assist our fosters if they need time away from home and are unable to take their foster dog with them. The babysitter or short term foster is required to continue training or follow a certain routine for the dog in order to maintain consistency & ensure the change is stress-free.
---
Dog "Teachers"
Do you have lots of dog experience? Love teaching people about dogs and learning new things?
We need experienced volunteers (or willingness to learn) or professional trainers willing to donate their time to advise and teach foster dogs, as well as foster and adoptive families. Those in this position need to feel comfortable providing over the phone or internet advice, doing behaviour research, or meeting with people in person to discuss or assess a dog's behaviour. This position is not for trainers specifically, but rather to have another eye (point of view) of the behaviour or situation. You would never need to work with a dog that you were uncomfortable with.
Assets: Transportation, telephone & internet. Along with an understanding of dog breeds, body language & behaviour, and common training techniques (or willingness to do research and learn). As well as people friendly, and familiar with how to be safe around a new dog.
---
Innovative & Creative Team
Are you full of new and unique ideas? Love thinking of new processes & policies? Boy, do we have the job for you!
With this position, the possibilities are endless. Insert yourself into any position in the rescue that you feel passionate about and then think of ways to improve or assist. Such as:
Improving the foster acceptance or recruitment process,
Improving the adoption experience or process,
Perfecting the rescue teams and functions to provide the best environment possible for our volunteers & dogs; or,
Thinking of creative new ways to:

Advertise the rescue or rescue dogs,
Fundraise; or,
Provide community outreach.
We need your brain!